Where history meets technology in elegance
526 County Road 513
Califon, NJ 07830
908.832.6869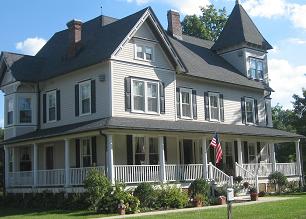 After a two-year renovation, The Raritan Inn at Middle Valley is serving the bed and breakfast traveler. While retaining all the charm of its 275-year history, the Raritan Inn has taken a quantum leap into the 21st century in serving shelter needs.
The Raritan Inn is well positioned to serve the traveling public through its location, facility, amenities and gracious management. It is a highly visible establishment developed at one location and marketed in local and regional channels. It is a leader in customer service and business amenities offered.
The Inn is useful to individuals traveling in this area as a reliable, clean, and convenient lodging facility. Corporate functions are held, vacationers know it as a friendly respite, and wedding parties are lodging here.
The Raritan Inn's mission is to provide innovative, practical and top-quality service. We believe our first responsibility is to the guests who stay with us. In carrying out our day-to- day business we strive to:
Treat our trade partners and employees fairly.
Follow the philosophy that our customers always come first. Guests are looking for comfortable ambiance with business amenities, to make for a productive stay, and we work to provide that atmosphere.
Create a model for energy efficiency and learning where the public can enhance their understanding of green solutions.
Through a long-term commitment to our mission, we are known as a convenient service to business customers, and offer numerous amenities and activities for vacationing guests. Our customers, vendors, and employees see The Raritan Inn as a desirable alternative to traditional business travel. We have won awards of recognition from the Community Builders' Association of New Jersey and the Hunterdon County Historical Society.

Print Friendly