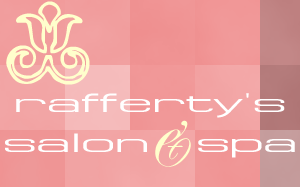 Victorian Square
438 Route 513
Califon, NJ 07830
908.832.9075
Proprietor:
Kathy Herzog-Fazekas
Credit Cards accepted:
Visa / MC / AMEX
Hours:
Tuesday: 9am-6pm
Wednesday & Thursday: 9am-8pm
Friday: 9am-5pm
Saturday: 9am-4pm
Sunday & Monday: by appointment
What town is complete without the services of a great salon?
Rafferty's in Victorian Square has been providing exceptional salon services for many years and caters to the needs of the whole family.
From children's haircuts to full-service hair design, and from a simple manicure to European Bioesthetic skin care, residents feel fortunate that Rafferty's calls Califon home.
NEW! Rafferty's is pleased to announce the arrival of our state-of-the-art Hex Tanning booth.
Provides great color in 12 minutes! Tan for $9.00 or buy a package of five sessions. Walk-ins welcome, or call to make an appointment.
Hair Services: Cut, Color, Style, and Texturing
The professional colorists at Rafferty's take special care in the application of color to match your specific hair needs to assure healthy, beautiful coloring. Includes shampoo, conditioning, and blow drying.
Designer Cuts as low as $30 (ncludes consultation, shampoo/condition, cut and styling.)
Kids' Cuts from $12
Single Process
Partial Foils, Foil Highlighting, Low Lights, Cap Frosting (incl. haircut)
Color Correction
Full Wave (incl. haircut)
Styling: Shampoo and Style or Shampoo and Set
Manicures & Pedicures
Relax and let Rafferty's staff pamper you with their specialized services.
Manicure or French Manicure
Full Set: Acrylic Nails, Tips, or Wraps (incl. manicure)
Specialized Nail Art
Paraffin Hand Treatment
Touch-up Services available
Spa Pedicure (hydrojets)
Pedicure
Polish Change (fingers or toes)
Sunday Birthday Bash
Ever wonder how to make a birthday party memorable? You provide the cake, and this group will provide the rest! You can have a private party at the salon, complete with hair styling and nail polish & design for 10+ of your closest friends!
Spa Services
Reduce stress, replenish, relax, and glow!
Aromatherapy Massage
Bioesthetic Skin Care Facial
Eyelash/Eyebrow Tinting
Ear Piercing
Ear Candling (includes light pressure point massage)
Spa Beauty Packages available
Want to surprise someone? Gift vouchers are a great present!

Print Friendly