Imported and Domestic Wines & Liquors
430 Route 513
Califon, NJ 07830
Phone: 908.832.2600
Fax: 908.832.6022
Hours:
Mon-Thurs: 9am-9pm
Fri-Sat: 9am-10pm
Sun: 9:30am-7:30pm
Welcome! At Califon Wine & Spirits, you will find a great range of table wines, champagnes, liqueurs, mixers, ice, and friendly service.
We carry a full assortment of domestic and import beer, as well as fine domestic and imported microbrewery products.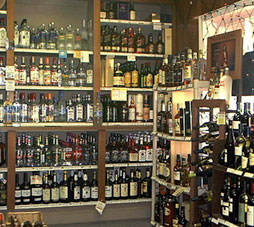 Our microbrew stock includes imported ales such as Stella Artois, Chimay farmhouse ale, and lambics (fruit ales from Belgium: cherry and peach).
We carry an assortment of snacks to go with your selections, as well as sodas and citrus juices for mixing.
We have regular and specialty (Dunhill and American Spirit) cigarettes in stock, as well as a wall humidor of cigars.
We also have an ATM for your convenience, and New Jersey Lottery tickets.

Print Friendly